Mobile Solar Container Portable PV Power Stations
Description
Mobile Solar Container Portable PV Power Stations
Introducing our cutting-edge solution for sustainable energy production: the Mobile Solar Container Portable PV Power Stations. Available in both 20ft and 40ft variants, these innovative containers are designed to revolutionize the way we harness and utilize solar power.
Key Features of Mobile Solar Container:
Efficient Solar Power Generation: Our Mobile Solar Containers are equipped with high-efficiency solar panels that capture and convert sunlight into clean, renewable energy. With a focus on performance, these panels ensure optimal energy production, even in challenging environmental conditions.
Modular Design: The container's modular layout allows for easy scalability and customization. Whether you choose the 20ft or 40ft version, the interior can be configured to house the required number of solar panels, batteries, inverters, and other components, providing flexibility to meet varying energy demands.
On-Board Energy Storage: To ensure uninterrupted power availability, these containers come with advanced energy storage solutions. The integrated battery systems store excess energy generated during the day for use during nighttime or cloudy periods, making it a reliable source of power round the clock.
Durability and Mobility: Constructed with rugged materials, our Mobile Solar Containers are built to withstand harsh weather conditions and transportation challenges. Featuring lifting points and secure locking mechanisms, these containers enable easy transportation to various locations, rendering them ideal for temporary power needs or disaster relief efforts.
Remote Monitoring and Control: Stay connected to your solar container's performance through remote monitoring systems. Access real-time data on energy production, consumption, battery levels, and system health, allowing for efficient management and maintenance.
Plug-and-Play Installation: Setting up your Mobile Solar Container is a hassle-free process. It comes pre-wired and pre-configured, reducing installation time and costs. Whether you're powering a remote construction site, an off-grid facility, or an event, you can start harnessing solar energy within hours.
Environmental Benefits: By choosing our Mobile Solar Containers, you're making a significant contribution to reducing carbon emissions and reliance on fossil fuels. Embrace sustainability and demonstrate your commitment to a greener future.
Applications of Portable PV Power Stations
Construction Sites: Power tools, equipment, and temporary facilities without the need for noisy generators or grid connection.
Events and Festivals: Provide eco-friendly power sources for lighting, sound systems, and vendors, ensuring a clean and quiet event experience.
Emergency Response: Rapidly deployable energy sources for disaster-stricken areas, supporting critical operations and communication.
Remote Locations: Supply power to remote communities, research stations, and communication hubs, enhancing quality of life and connectivity.
Experience the convenience, versatility, and eco-friendliness of our Mobile Solar Containers. Choose sustainable energy solutions today for a brighter tomorrow. Contact us now to learn more about pricing, customization options, and how our containers can meet your unique energy requirements.
20ft Mobile Solar Container Additional Features:
Compact Design: Ideal for locations with limited space while still providing substantial solar power.
Rapid Deployment: Quick setup for urgent power requirements or temporary installations.
Versatile Applications: Perfect for small events, remote monitoring stations, and powering essential devices.
| | | |
| --- | --- | --- |
| External dimensions | Internal dimensions | Man door dimensions  |
| Length: 20′ (6.58m) | Length: 19′ (5.80m) | Width: 3′ (0.91m) |
| Width: 8′ (2.44m) | Width: 7′ 8" (2.34m) | Height: 6′ 6" (2.01m) |
| Height: 8′ 6" (2.62m) | Height: 7′ 10" (2.38m) | |
40ft Mobile Solar Container Additional Features:
Increased Capacity: Double the space means more solar panels, batteries, and greater energy storage.
Enhanced Scalability: Accommodates larger energy needs or multiple power-consuming activities simultaneously.
Robust Power Supply: Suitable for medium-sized events, disaster response centers, and off-grid communities.
| | | | |
| --- | --- | --- | --- |
| External dimensions | Internal dimensions | Door dimensions  | Weight |
| Length: 40′ (12.19m) | Length: 39′ 3" (11.96m) | Width: 7′ 8" (2.34m) | 8,269 lbs. (3,750 kg) |
| Width: 8′ (2.44m) | Width: 7′ 8" (2.34m) | Height: 7′ 5" (2.26m) | |
| Height: 8′ 6" (2.62m) | Height: 7′ 10" (2.38m) | | |
20ft Truck
Truck can fit up to two 10ft shipping containers.
Local delivery starting at $350
40ft Truck and trailer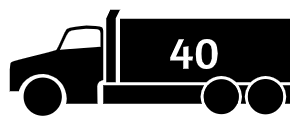 This truck and trailer can fit up to four 10ft shipping containers. Requires 100ft straight line for drop-off. Read more 
here
Local delivery starting at $350
Additional information
| | |
| --- | --- |
| 20ft & 40ft | Standard Container, High Cube Container |